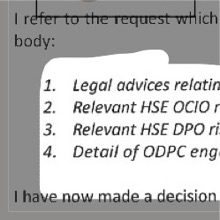 I have previously written about why I think the CJEU's Bara Judgment makes Section 8 of the underlying Health Identifier Act illegal. (This is the Section that allows the state to try to pool the info they hold on citizens in other databases to populate this new one.)
An FOI reply has now been sent on to me about the Individual Health Identifier scheme. I am surprised to see an acknowledgement that, despite the extreme sensitivity in creating a new database of the population for medical use, the HSE has no record of any legal advice on the scheme, no assessment by their Data Protection officer of the scheme and, perhaps most perplexingly given the HSE's repeated assurances that they have been engaged with the Data Protection Commissioner's office, they have no records of any Data Protection Commissioner Office engagement on this project.

The reasons for refusing the release of the only category of document that actually exists are unsupportable, but that is almost becoming too common to bother remarking on.
Full reply below.