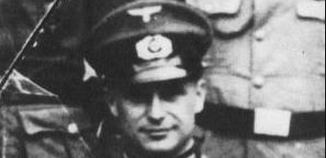 On 21st June 1943, the Gestapo raided the house of Dr. Frédéric Dugoujon in Lyon. There they found nine leaders of the French Resistance, including Dr. Dugoujon, Jean Moulin, Raymond Aubrac and René Hardy. Only René Hardy escaped, there and then.
Jean Moulin, returned from Britain, had been charged by General De Gaulle with uniting the various factions within the Resistance. He was tortured extensively by Klaus Barbie in Lyon and died in a railway station in Metz on his way to Germany.
The factionalism in the Resistance was a serious problem. The destructive political divisions in pre-war France between Right and Left persisted after the fall of France.
Little wonder then, that, since that raid, questions have been asked about the identity of the person who betrayed Moulin and the others.
Raymond Aubrac was , understandably, amongst those suspicious of Hardy's escape.
Immediately after the war René Hardy was tried (twice) by the new French authorities, charged with collaboration and acquitted on each occasion.
As context, in 1940 Charles De Gaulle had been sentenced by a court-martial to four years in prison and later that year was sentenced by another court-martial to death for treason.
As recorded by the New York Times, the fact that René Hardy was shot by the Gestapo as he escaped was of lesser significance than that he escaped.
Ironically, and luckily, for Raymond Aubrac, his enemies would have to wait until 1987 before the "testimony" of Klaus Barbie would "identify" him, Raymond Aubrac, as Barbie's agent. Barbie was a major war criminal. He personally murdered many people besides Jean Moulin and ordered the deportation of 44 Jewish orphans to death in Auschwitz from Izieu in France.
By then the savagery and power of the various domestic political opponents had waned and Raymond Aubrach, unlike Hardy, was beyond the reach of a drumhead trial.
The fact that he was a Jew and was rescued and liberated by his Resistance companions (including his redoubtable wife) was of lesser significance than that he was perceived to be a communist. While there was no state trial, his enemies led him to try to respond to Barbie's obvious lies and malice, with the inevitable result that he failed to prove his innocence.
For his part, by the end of his life René Hardy had become enured to the lack of justice for him and people like him; people who had resisted the Germans, who had not sat at home and consequently, being visible, attracted attacks. Often, demands for truth and clarity are cover for hidden motivations.
Careers can be made; interests can be defended and malicious actions hidden, by control of the media or some element of the state. In the case of Raymond Aubrac, it was absurd that the "evidence" against him was the assertions of a duplicitous major criminal with an axe to grind, from whom Aubrac had been lucky to escape once; six degrees of separation is, arguably, insufficient distance from some people.
This writer walked past the Moulin family home in Beziers this August.