An interesting case has appeared in the High Court search system.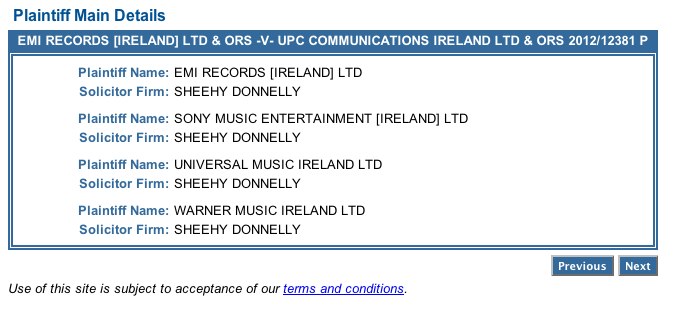 Yesterday, EMI Records [Ireland] Ltd, Sony Music Entertainment [Ireland] Ltd, Universal Music Ireland Ltd and Warner Music Ireland Ltd filed papers in the High Court central office to commence proceedings against UPC Communications Ireland Ltd, Vodafone Ireland Ltd, Imagine Telecommunications Ltd, Digiweb Ltd and Hutchinson 3 G Ltd.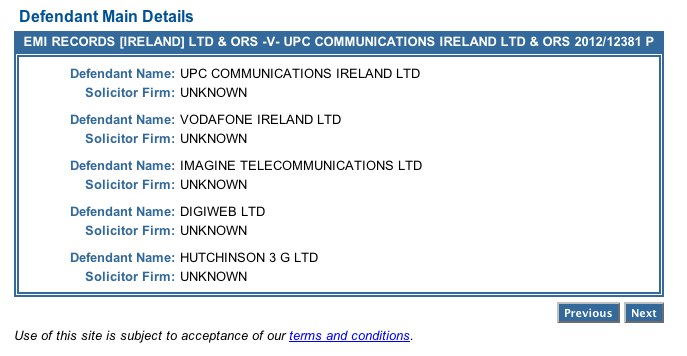 The case is listed before the Commercial Court on the 17th December by way of Notice of Motion.
This, of course, will come to no surprise to anyone who followed the StopSOPAIreland campaign at the beginning of this year. The fact that the defendants do not include eircom (the only ISP to introduce the three strikes system the music label companies have demanded they are due by right, and the only ISP currently blocking the PirateBay after the music label companies made an undefended application to the High Court) is highly suggestive of the Plaintiff's intent.
On the 5th December 2011 representatives of EMI and the other music companies met with Minister of State Sean Sherlock. They said they intended to seek the implementation of the SOPA-like Statutory Instrument so that they could seek injunctive relief against ISPs. You can read the memorandum of that meeting. They told the Minister "the wording of the SI as published is ideal" .
On the last day of February this year, the Government gave them their ideal law.
We may be seeing, on the 17th December of this year, the first of the predicted applications to block Ireland's users from accessing particular websites.
If so- and the applicants are successful- it difficult to imagine that it will be the last.